HOURS
TUES-THURS: 5PM-1AM
FRI & SAT: 5PM-2AM
SUNDAY: 5PM-1AM
MONDAY: CLOSED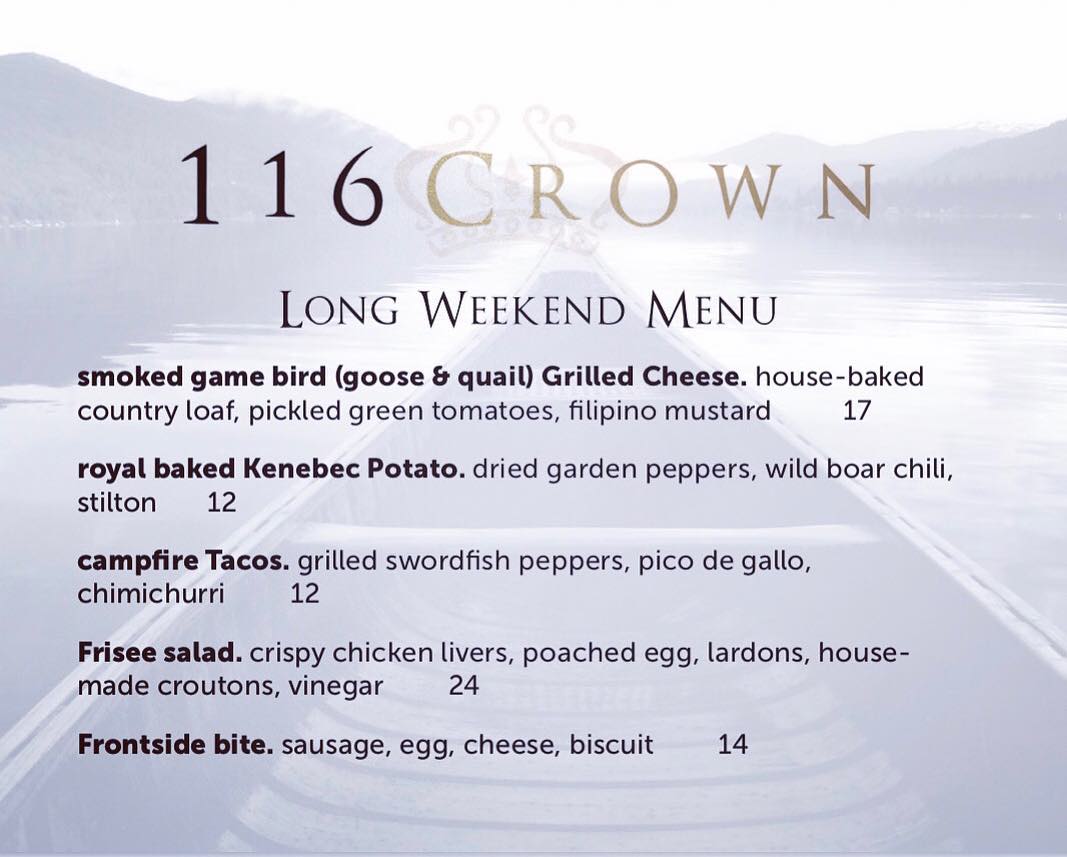 Organic Green Salad
sherry vinaigrette, chives
Buratta Crostini
prosciutto, fruit preserves, olive oil, whole wheat bread, sea salt
Tuna Tartare
soy, sesame emulsion w. pine nut dust
Herb Salad
artisanal lettuces, petite herbs, micro greens w. meyer lemon & thyme vinaigrette
Rare & Aged Meats w. Arugula & Mostarda
south cider salame (goose, pork, persimmon, hard cider) & 6mo dry aged 'lamb ham' from smoking goose meatery
+add truffle oil
Fries
resh chives & parmigiano-reggiano
+add truffle oil
D'evil Eggs
crispy shallot, pancetta, chives
Falafel
pickled eggplant, kalmatta olives, garlic oil, hummus, roast mediterranean peppers w. warm pita
Whitefish Salad
hard boiled eggs, lime tobiko, red onion, capers w. rice crackers
Mini Pork Shanks
tokyo glaze, green onions, white sesame
Oysters
the freshest East Coast Selections served ice-cold with house-made cocktail sauce & Bowmore 12 year Single Malt Scotch, cantaloupe shrub
Lamb Bolognese
san marzano tomato, celery, carrots, salemme pepper
Seasonal Vegetable
daily preparation of chef's whims
New Haven
littleneck clams, cockles, parmigiano-reggiano, gremolata
Margherita
san marzano tomato, parmigiano-reggiano, burrata, fresh basil
Mirtillo
ricotta, tallegio, mozzarella, blueberry compote, wild mushrooms
Aubergine
san marzano tomato, eggplant, cherry peppers, mozzarella, parmigiano-reggiano
Cavolo
brussles sprouts leaves, parmigiano-reggiano, red onion, apple, young cheddar, bacon
Stuffed All Natural Chicken Breast
truffle, chèvre, turmeric cauliflower gratin, on vermouth soaked cedar plank
Grass Fed Organic Burger
braised leks, mushrooms, fried egg, pimento cheese, lettuce, tomato, red onion
Cookout for Two
40oz. organic grass-fed maine angus tomahawk steak, prosecco glazed baby carrots, creamed spinach, mushrooms & onions, black garlic whipped potatoes
Hand Harvested 'Dry' Atlantic Sea Scallops
roasted potatoes, wilted arugula, brown butter capers
Berkshire Pork Loin
prosciutto, autumn thyme & coriander butter basted root vegetables, wild cider reduction
Hand-Cut Charcuterie & Cheese
served with crusty bread, house made herb butter, fruit preserves, artisanal olives, stoneground mustard
Salame Cotto : Pork
coarsely ground and tender. fenugreek, red wine. rich, savory-sweet caramel & maple flavors
Saucisson Rouge : Pork
nose-to-tail with heart and liver, espelette pepper, chili, red wine. old-school minerality with spicy pop and lingering finish
Gin & Juice Salame : Lamb & Pork
crushed juniper berries and orange peel, bright gin flavors and fresh citrus zing over mild game flavors
Dodge City Salame : Pork
fennel pollen and pink peppercorns. gentle licorice flavors inspire the appetite while pink peppercorns add spice to earthy flavors
Rabbit & Pork Cheek Terrine
nutmeg, garlic, parsley. dense but clean flavors, herbal and classic terrine spice in the background, toothsome texture
Quadrello di Bufala: Cow, Lombardia, Italy
unusually rich and flavorful, pasteurized, creamy, sweet, and robustly pungent
Harbison - Jasper Hill Farm : Cow, Greensboro, Vermont
bark-wrapped, bloomy-rind creamy paste with woodsy, sweet, herbal, and bright flavors. named for 'the grandmother of greensboro'. aged 6 weeks
Whipped Ricotta : Cow, House-Made
creamy, smooth, light & mild. whipped with local honey, sprinkled with bamboo charcoal sea salt
Purple Haze – Goat, Cypress Grove : Humboldt County, California
fresh pasture-fed goat cheese with the perfect mixture of lavender & fennel pollen
Humboldt Fog - Goat, Cypress Grove : Humboldt County, California
cypress grove's signature offering, elegant, soft, surface-ripened cheese, creamy and luscious with a ribbon of edible vegetable ash
Malvarosa : Sheep, Valencia, Spain
firm & buttery texture, pasteurized, rich and sweet flavors with butterscotch finish and edible rind
Warm Cookies
better than your grandma's
Mexican Coke Float
clément rhum aricole v.s.o.p., fresh vanilla ice cream
Fudge Brownie
ashley's vanilla ice cream, caramel sauce
Contemporary, Nuanced & Unexpected
Four Thieves
organic house-infused blueberry vodka, lemon juice, lavender, simple syrup – served on the rocks
Corpse Reviver #5
martin miller's gin, jack rudy tonic syrup, luxardo maraschino liqueur, lemon juice – served straight up
Church Key
aalborg akvavit, passion fruit purée, ginger syrup, apple cider foam – served on the rocks
Forth & Clyde
hendrick's gin, maker's mark bourbon, st. germain elderflower liqueur, local honey, lime juice, salemme chili flakes – served straight up
Lower East Side
liquore strega, lime juice, cumin, salt, soda – served on the rocks
Grand Prix
hendrick's gin, pink grapefruit juice, fresh ground black pepper – served straight up
Póit Fix Up
glendalough poitín, lemon juice, agave syrup, black walnut bitters – served straight up
Reformation
russel's reserve 10yr. bourbon, laurent cazotte quince wine, kronan swedish punsch – served straight up
Clover Club (remix)
martin miller's gin, lemon juice, g.e. massenez crème de mure, turbinado syrup – served straight up
Glitterati
plymouth gin, g.e. massenez crème de cassis de dijon, lemon juice, simple syrup, mionetto brut – served on the rocks
Original Sparkling Cocktail
mionetto brut, peychaud bitters – soaked sugar cube
Purple Curtain
rothman & winter crème de violette, mionetto brut
Doc Holiday
old overholt rye, depaz cane syrup, lemon juice, lime juice, fresh strawberry – served on the rocks
Jolly Roger
four roses reserve bourbon, passion fruit purée, depaz pure cane syrup, bird pepper, soda – served straight up
Grace
grande absente, baies rose syrup, lime juice – served on the rocks
The Chartreuse Cocktail
green chartreuse, lemon juice, simple syrup – served straight up
A Perfect Warning
new york distilling co. rock & rye, giffard crème de pamplemousse rose, fernet branca, club soda – served on the rocks
The Last Word
served straight up
The Devil Himself
this drink is irretrievably bitter and strong.
Lauren's Driving Home
booker's bourbon, benedictine, bitter truth krauter liqueur, grapefruit juice served straight up
Chantme
no. 209 gin, green chartreuse, laphroaig 10yr burner served on the rocks
Breakfast In Vegas
bookers bourbon, espresso shrub, strawberries, local honey veuve clicquot champagne, st george's absinthe, chewable coffee served straight up
Featured Revived Cocktails
all historically sized
The Perfect Manhattan
basil hayden's bourbon, boissiere sweet & dry vermouth
The Self Starter
no.3 gin, rothman & winter apricot liqueur, cocci americano, absinthe burner
The Aviation
miller's gin, rothman & winter creme d' violette, luxardo maraschino liqueur, lemon juice
Classics & Inspirations
Cocktails are inspired and inspirational. Below are some famillar classics and drinks they've inspired.
The Martini
plymouth gin, boissiere dry vermouth - served straight up
Dr. No
miller's gin, zubrówka bisongrass vodka, white lillet - served straight up
Thom Collins
miller's gin, lemon juice, simple syrup, soda - served on the rocks
Gray Lady
miller's gin, rothman & winter crème de violette, organic egg foam, lemon juice, simple syrup - served straight up
The Dye Ker Ree
clément rhum agricole v.s.o.p., depaz pure cane syrup, lime - served straight up
+ limit one per guest
Papa Doble
clément rhum agricole v.s.o.p., pink grapefruit juice, luxardo maraschino liqueur, depaz pure cane syrup, lime
+ limit one per guest
+ add Sbagliato
The Negroni
campari, hendrick's gin, boissiere sweet vermouth - served on the rocks
+ add Sbagliato
Oakland Hipster
new york distilling co. rock & rye, cynar, fernet branca, campari, coke de mexico - served on the rocks
Original Rye Sour
michter's rye, lemon juice, simple syrup - served straight up
Nolita
maker's mark bourbon, lemon juice, simple syrup, red wine - served straight up
Riff
(pinot grigio) alto adige, italy
+saturdays only
Luneau Papin Muscadet 'Les Granges'
loire valley, france
+saturdays only
Felsner Gebling Vineyard
(dry riesling) Kremstal, Austria
Jean-Paul Brun
(chardonnay) beaujolais, france
Jean-Marc Bernhard
(pinot blanc) alsace, france
Cape Mentelle
(sauvignon blanc/semillon) margaret river, australia
Avancia Cuvee O
(godello) valdeoras, spain
Girard Sancerre la Garenne
(sauvignon blanc) loire valley, france
Vietti
(arneis) piedmont, italy
Flowers
(chardonnay) sonoma coast, california
Ramey
(chardonnay) russian river valley, california
Mount Eden Vineyards
(chardonnay) santa cruz mountains, california
Boundary Breaks 'Ovid Line North'
(off dry riesling) finger lakes, new york
Felsner Gebling Vineyard
(dry riesling) kremstal, austria
Domaine de Majas
(macabeu/vermentino/carignan blanc) côtes catalanes, france
Eric Texier 'Chat Fou'
(grenache/clairette/viognier/chasselas) côtes du rhône, france
Diehl
(dornfelder) pfalz, germany
Block Nine
(pinot noir) napa, california
Capezzana Barco Reale Carmignano
(sangiovese/cabernet) tuscany, italy
Rio Madre
(graciano) rioja spain
Chateau d'Oupia
(carignan/grenache) minervois, languedoc, france
Radio-Coteau 'La Neblina'
(pinot noir) sonoma coast, california
Selvapiana Chianti Rufina
(sangiovese) tuscany, italy
Vietti Tre Vigne
(barbera d'asti) piedmont, italy
Foradori Granato
(teroldego) alto adige, italy
Honoro Vera
(organic monastrell) jumilla, spain
Cline Cashmere
(grenache/syrah/mourvèdre) sonoma, california
Cade Estate
(cabernet sauvignon) howell mountain, napa valley, california
Tierra Divina
(malbec) mendoza, argentina
Drew Family Pinot Noir 'Gatekeeper's'
anderson valley, california
Domaine Eden
(cabernet sauvignon) santa cruz mountains, california
Maréchal Bourgogne Gravel
burgundy, france
Occhipinti
(frappato) sicily, italy
Naveran Rose Cava Brut Rosé
penedès, catalunya, spain
Krug Grande Cuvée N/V
champagne, france
Tarlant Zero Brut Nature
champagne, france
Mionetto Prosecco Brut N/V
veneto, italy
Veuve Clicquot Yellow Label Brut N/V
reims, champagne, france